Criminal Minds Trivia Winner Shares Her NYC 68 Kill Experience!
Criminal Minds Trivia Winner Shares Her NYC 68 Kill Experience!
Hey Gube fans! You've already seen my account and review of the 68 Kill premiere here in Austin at SXSW. Now you can read all about our Trivia Contest Winner Kari Ring's night in New York City at the IFC screening of the film, where Matthew was also in attendance, and introduced the film! Kari was kind enough to write up her account of her Saturday night to share with all of us. Would love to hear your stories, too! If you were there, or at any of the other screenings, tell your story in the comments below. And now without further ado… here's Kari!
WOW! Where to start with my experience seeing 68 Kill with star Matthew Gray Gubler there? When I saw Matthew post that he would be doing a Q&A at the 10pm NYC premiere of his movie, I knew I had to get tickets quickly before they sold out. I immediately purchased two tickets for a friend and I, and we began excitedly planning the evening.
When a second showing was added at midnight, my anxiety kicked in. This only left us approximately 30 minutes after the show to do the Q&A and get photos with Matthew. How would they do it? Would they rush us through? Would we have to wait for photos until after the midnight screening? Would they forget about the 10pm fans in favor of the midnight fans?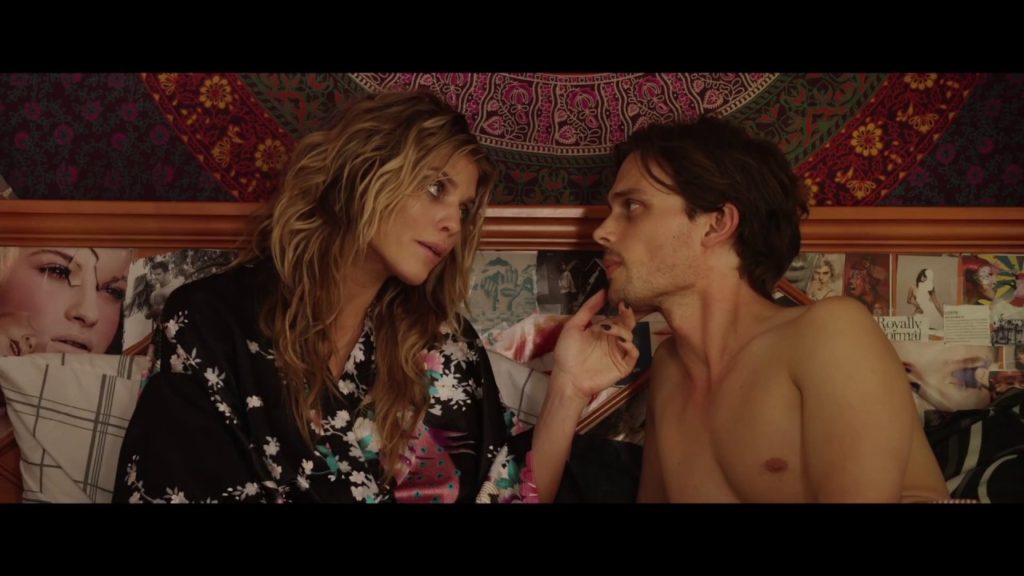 Nervous, but determined, we continued to plan the evening and hope for the best. Upon leaving my house for the train station, I remembered the Spencer Reid cross stitch, made by Amanda Jones, that I had won from the trivia challenge on this site. I quickly ran back up the stairs, grabbed the frame and a sharpie, and threw them in my purse. I figured this would be a really unique item for him to sign!
My friend and I got in line around 8:25pm. The line was already pretty long! Finally, around 9:45 they opened the doors and let us into the theater. We were seated in the middle of the theater, behind a reserved section, which appeared to be friends of Matthew's. Around 10pm, the host introduced Matthew. He ran up and down the aisles high fiving everyone on the ends of the aisles. He then introduced the movie, wearing a nude bodysuit and holding a pink towel. I was intrigued by the outfit, but after seeing the movie it made complete sense.
68 Kill was a hilarious take on how what seemed like a simple heist, soon escalated into the worst night of Chip's (MGG) life. Chip's girlfriend convinces him to help her steal $68,000-simple, no one gets hurt. We soon realize that Liza (AnnaLynne McCord) has a seriously dark and twisty side. The dark humor was on point and I found myself laughing at some of the darkest moments. The humor definitely balanced out the gore. It was amazing seeing Matthew in a different role, and even more amazing to experience it WITH him. 68 Kill is definitely a must see!
After the movie, Matthew did a Q&A session about the movie and then there was a costume contest. People dressed up as the worst night of their life, and the winner received a 68 Kill bandana. After the contest, the people at the theater asked us to wait outside, so they could get the midnight group inside. We followed the request and waited outside for our promised chance to get a photo with Matthew.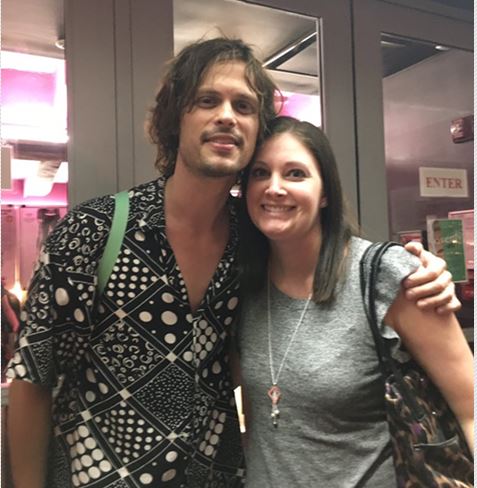 After waiting outside for an hour, and being told we would be let back in to form a line for photos, we began to lose hope. There was already a long line inside from people who did not leave when asked. Around 1am, a theater worker told us we would not be let back in, but Matthew would come outside after the inside line was finished.
We were exhausted and had already missed the last train out of the city, but we were excited to see him, so we waited. At 1:15 a woman came outside and asked everyone to leave, saying that it had gotten way too late and Matthew would not be coming outside to do any more photos or sign anymore autographs. We were heartbroken. We had already missed our train and it would have been all for nothing. Most people left after this, except for a small group of about 6 people who weren't ready to give up. I asked my friend how she felt about just waiting ten more minutes. I had a really good feeling that waiting 10 more minutes was going to make a difference. Since Matthew is her favorite actor, and we had already missed the train anyway, she agreed.
Less than 10 minutes later Matthew walked by the door and waved to us and signaled for us to wait a minute. He came outside and said "Hey everyone thanks for waiting, lets do some quick photos!" We were ecstatic. We took some quick pics, and once everyone got their photo, I went back up to him and asked if he would mind signing my cross stitch of him. He absolutely loved it! He asked if I had made it, and I told him the story about winning the trivia contest, and that Amanda had made it. He ran his fingers over the entire thing and kept saying "Wow this is really amazing!"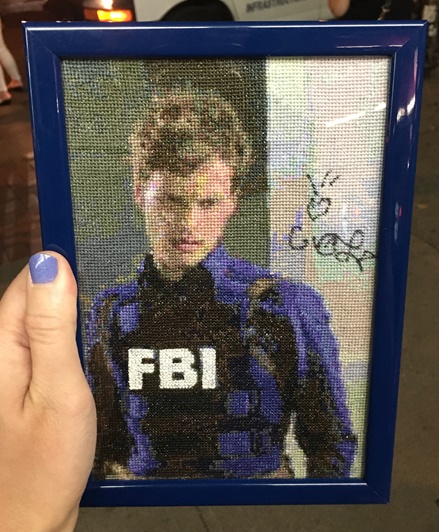 A successful evening was had by all, and even though we had to be a little creative with getting home from the city, it was well worth it! Matthew could not have been nicer! If you haven't seen the movie, definitely watch it! And if you get the chance to see it WITH him in the theater, it is an experience you will definitely never forget!
Thank you for sharing that with all of us, Kari!
For more about 68 Kill, see my review here.