In Jeid We Trust: CM S14 Ends With a Bang, a Wedding, and a HUGE Reveal!
In Jeid We Trust: CM S14 Ends With a Bang, a Wedding, and a HUGE Reveal!
"The thing about twin flames, is that nothing can keep them apart." – Emily Prentiss
While I want to talk about the entire episode, because duh, sometimes there's a thing that happens on Criminal Minds that is so monumental that it eclipses everything else that occurs. That was Wednesday for me, and for every other Jeid shipper that has been rooting and longing for a JJ/Reid pairing, forever.
I always felt it started at the beginning. Her cutting him the first slice of his birthday cake, Gideon giving him those Redskin tickets, the subsequent sort of disaster that was 'the date'… I was a goner. Since the beginning, we've been told no, won't happen. Well this time something did.
JJ admitted she's always loved him. Always. Loved. Him.
This is a paradigm shift for Criminal Minds fans, even for us who feel we've always known, always seen it. JJ has been there for every important event in his adult life. She's seen him grow from a self-conscious, awkward young genius, to a confident, noble, and self-assured man. She's seen him through drug addiction, an unearned prison stint, life-threatening injuries that left him physically scarred, and personal losses and crises that left him emotionally and mentally hollow.
For his part, Spencer has watched her grow from a savvy media liaison and crack shot, to an expert profiler on par with any of them. He has had her back through countless life and death situations, the birth of her sons (his godsons), her abduction and torture, and forgave her role in the cover-up of Emily's "death", that nearly shattered their rock solid friendship (where he went to JJ's home for ten weeks, every night, unable to cope with the loss alone), and he has literally saved her life.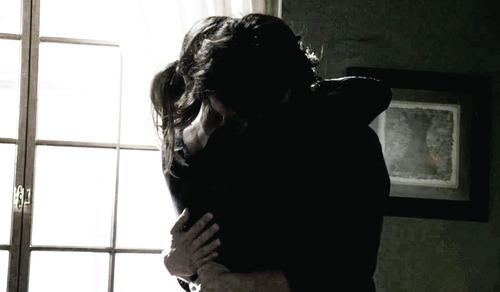 They have called each other "best friend" for a long time. Many years. And now for the first time we fans have hope that they may call each other something more. We don't know if the show will allow them to act on this revelation, but many, many of us fervently hope that they do. Some of the most loving and passionate relationships are rooted in unshakeable friendship, first.
Some fans didn't ever see the fire between them, and were vocal about expressing their dissatisfaction. The most oft-used objection was "She's married, with two kids." I understand that sentiment, and the commitment, and what it means. I do wish those complaining understood our position as generously.
However, with all due respect, and if I can be frank… so what? People aren't carved in stone, and marriages end all the time for any myriad of reasons. Even though I hope they never villainize Will as a convenient plot device, because I like him and he doesn't deserve it, that could still somehow happen. Or he could die in the line of duty, or they could split amicably, or there could be a big and messy legal fight. While I know from experience that children are resilient and can and do get over divorce, their well-being is of prime importance, and must be taken into consideration, even within this fictional family.
What I definitely do not want to see, is the show's writers parsing the meaning of the word "love", as if she didn't mean it romantically. The eyes told all, guys. We know exactly how she meant it. Please don't insult us with an Obi-Wan retcon.
To me, JJ's marriage has been one of convenience, co-parenting, and great fondness. She turned Will down four times before finally accepting, after he had a near-death experience that shook her. Then she found herself spun into a well-meaning but abrupt wedding ambush, courtesy of her mother and Rossi, and all of a sudden, there it was. Her second pregnancy seemed to entrench her in the relationship, and Will has been a good husband and father. JJ accepted the trade-off of deep passion for security, and she's never owned up to otherwise ("We make it work"). Until now.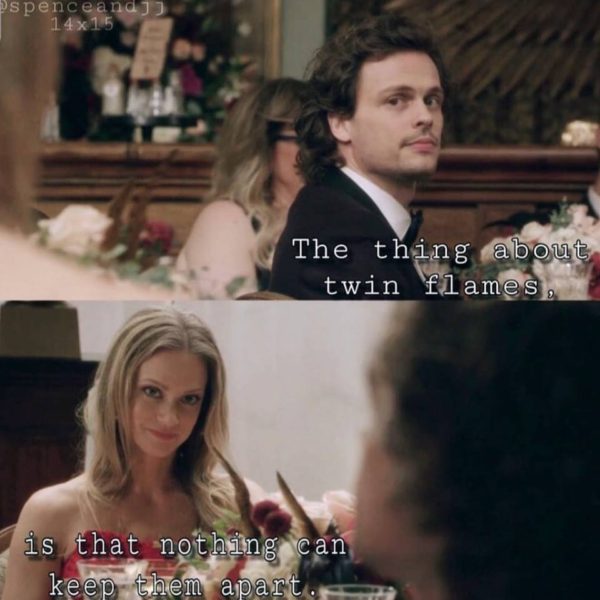 We really don't know if they will follow up with a breakup. They could very well decide to push through with the status quo, though I highly doubt the writers would tease us with such an earth-shaking reveal and not pursue it one iota. Noting that there will be about a six month time jump when the show picks up again for the 15th and final season, what happens in that six months could be the key to moving forward. I can't wait to see, and am greedy now for more episodes. I daresay that's what the PTB were counting on when they planned this out.
I'd be remiss in not mentioning Rossi and Krystall's lovely, demurely elegant wedding (although, where were all her friends?). It was warm and sweet and Gail O'Grady is such a sincere, pure actor, I loved it. Nice to see Joy, ALSO JOHNNY MATHIS!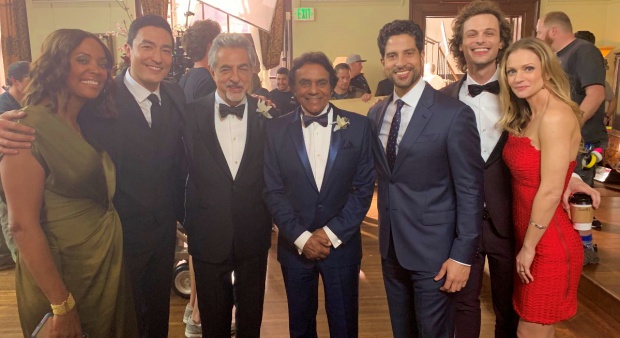 I must also mention Matt and Kristy's news, that another gorgeous Simmons wee one is on the way. Damn, those two are a fecund pair, aren't they? And the happy BAU dance party was alive with the spirit of Penelope and Luke, while the wonderfully sardonic Tara had all the funniest lines (as usual).
I have to apologize to Erica Meredith because I'm sure she worked so freaking hard on the UnSubs, the crime, et al… and the actors were all superb, especially the final UnSub and the judge. BUT I really cannot write coherently about anything else but JEID, probably for some time. When you've hoped, dreamed, written about, and fangirled about a ship for the past 14 years, and they finally make a move to canon? Pretty heady stuff. Especially when it's handled with such love, class and dignity, from all involved, as well as both actors, especially.
Thank you Glenn, thank you E4, thank you AJ and Matthew, and thank you Erica Messer for giving this the consideration, and the go-ahead. Breen, I feel you in there, too… so thank you as well. I really cannot express enough how deeply this one was felt. xo
Written by: Erica Meredith
Directed by: Glenn Kershaw