*EXCLUSIVE* Get to Know Harry's Executive Assistant: Jenny Koreny!
*EXCLUSIVE* Get to Know Harry's Executive Assistant: Jenny Koreny!
What do you get the Executive Producer that has almost everything? A brilliant, charming, and extremely capable Woman Friday, that's what (I mean 'who')! This always-on-the-go executive assistant kindly found an hour or so to chat about her job, her boss and co-workers, and how working on Criminal Minds is unique, indeed. Ladies, gents, and other identified pronouns, I give you the inimitable Jenny Koreny!
TJ: Hey Jenny! I'd like to begin by talking about where you came from, and how did you find yourself in California?
JK: I grew up in a suburb of Cleveland, Ohio. I eventually moved out to Sacramento and did undergrad, then USC film program. From there I ended up in LA.
TJ: What was your original passion and how did it lead you to Criminal Minds?
JT: Always wanted to be in film and TV, but had a little bit of a derailment in the early twenties, family stuff, so I felt I needed to study something that would be a little more realistic financially, which was graphic design and web design. I did enjoy it but as I worked for a year or two in that field I was still looking at film schools, USC was my top pick, I applied and got in to the TV and Film Production grad program.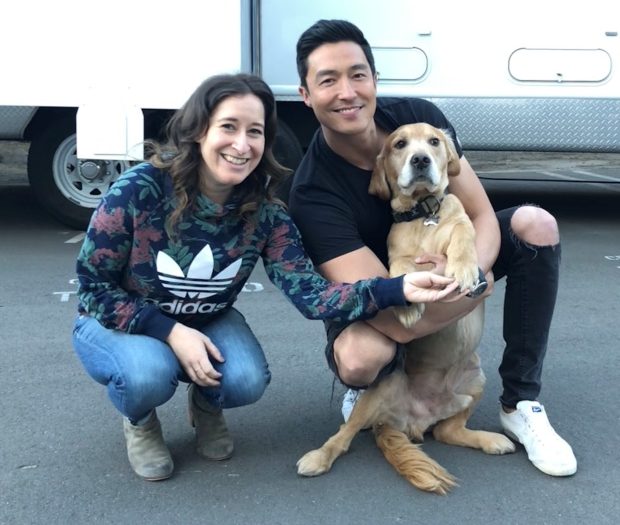 You learn all the aspects of filmmaking, even if you want to be a writer, you still have to direct, produce shoot, write and edit during the first year. The benefit is… if you want to write or produce like I do, you get to see for example, how script choices affect production. You have a well-rounded experience of filmmaking.
TJ: Please tell us more about your Graphic Design background.
JK: I felt it was something that was still an art and you could use design or art in the world of media and it was less mystifying to break into. I was thinking of going down more of an advertising path, because you're still telling stories. Coming into TV it benefitted to have some weird skill, because it helped me to market myself to producers because it was just a skill that they wouldn't necessarily put in the job description, but they were always excited that I had it.
TJ: Because it showed that you could think visually.
JK: Yes or if a producer needed a pitch packet or something I could say "I can help you with that" or a power point deck, you know? This is really random, but I ended up designing the wrap gifts for the series Mad Men, and the series finale for Parks&Rec which were yearbooks. That was really cool because those are two of my favorite shows and cast and crew all participated by sending in personal photos from set, we did school photos and recreated a full yearbook. It was really fun.
TJ: How did you get your job at CM?
JK: I worked on another ABC Studios show called The Muppets. Once it was cancelled our production executive passed my resume along to Harry. So I didn't actually submit myself to it! I got a call from Harry saying he had my resume and was conducting interviews.
TJ: Sounds amazing. What does your job now entail? Walk us through a typical work day for you, if you can.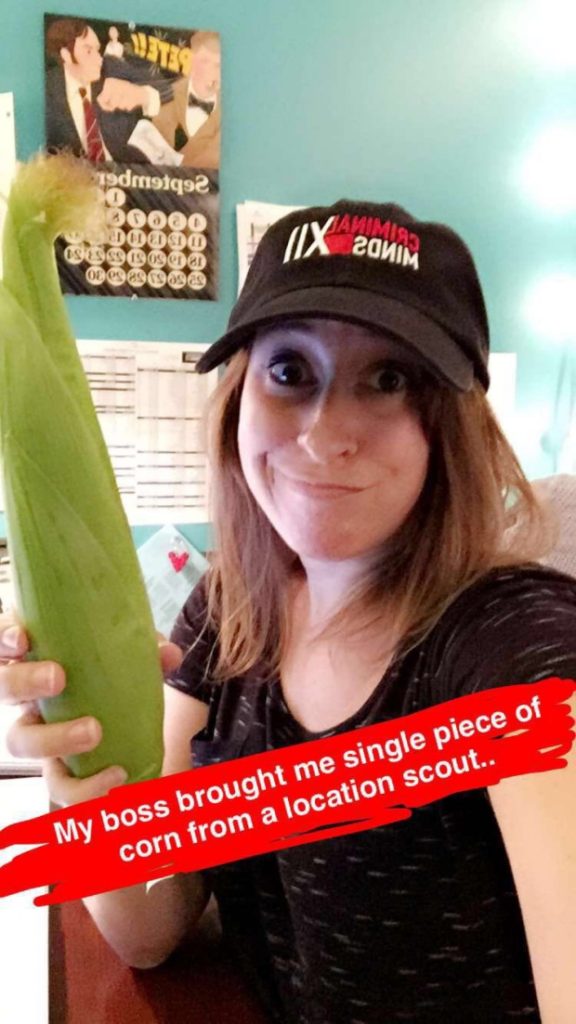 JK: Okay, well I'm Harry Bring's assistant, he's the exec producer and he takes care of all the line producing elements of the show, which I call the 'heavy lifting'.  Harry receives script outlines and early versions of the scripts before anyone else in production. So he's breaking down scripts for production constantly. He connects with every department to make sure things are on budget and running smoothly. Most of my duties are similar to an executive assistant so I won't go to deeply into those.
The exciting parts of this job is the opportunity to interface with all of the departments. You get to know a lot of people and how their worlds operate. I know how much each departments can spend. I go to all the meetings that Harry attends, which is not always common for these types of jobs. A lot of assistants are stuck to a desk answering phones but here I get to attend most of the director meetings with casting, art department, and post for each episode. I'm going to all the production meetings.
It's a fabulous learning experience. I also keep track of our main cast schedules. When for example, an actor needs to do press on a show like The Talk. I'll make sure the ADs and the writers know when actors have other engagements so they can schedule around it if possible. And our cast is talented so they're very busy!
Another fun aspect is handling press and promotions. We have reps from both ABC and CBS who come for photoshoots or interviews with our actors, writers and even directors. Its easier to have them come to set so the actors do not need to travel and we can work with the ADs to figure out when the actors are free during their work day to step aside and do an interview. Then once you've nailed down a day, you have to find a spot on set to do it. Which seems easy but our sets are constantly changing, so I'm checking with construction to make sure we're not building and checking with art dept to make sure the available set won't be bare. We also have a team who does the DVD extras who comes in to get interviews and bts coverage. All of that comes through Harry & I.
We also handle all of the guests who come to set. Probably the most rewarding set visit I've organized is with Make A Wish foundation. And of course… your set visit!
TJ: OMG you were so patient and gracious with us.
JK: I know all that stuff doesn't sound that stressful…
TJ: Actually yes, it does sound stressful. Also awesome.
JK: Well yes and it's a big ship to steer and once you get that ball rolling, that train in motion, it's not easy to stop it or make changes the closer you get to an episode's production date. Last year was my first year, and it was hard because a lot of people had worked together on the show for a long time, and it was a little intimidating. But everyone was really great about offering suggestions and answering questions. I do get to know people all around which is something I love about the job and a perk about being in the Line Producer's office.
TJ:  What's it like working for Harry? Any anecdotes to share?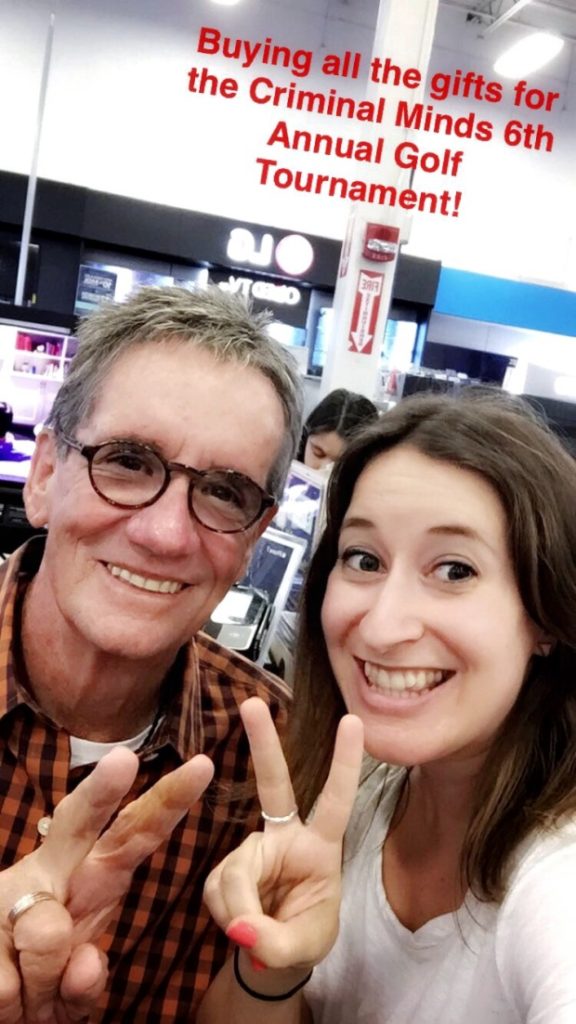 JK: Oh my god! Anecdotes? Haha I always say I need to keep a good stream of memes going at any point in time. So if there's any point in the day where there's a lull, I'll definitely be texting Harry some sort of crazy dog meme, anti-Trump meme, political stuff and the like. He definitely has a sense of humor, more than what I've known previously. I have endless stories, I tell all my friends, everyone knows Harry because he's just so funny. Also there's kind of a running joke that since I went to USC and Harry is a USC superfan then that's how I got the job. I'm like, "Hey, if that's what did the trick, I'll take it!"
TJ: What's the best part about working for Criminal Minds?
JK: Besides the endless flow of food and coffee? The show's been around for so long, the crew has their rhythm down. They've worked together for so long and they know how to work together so well, If there's any questions I have, Harry is very open to answering them. And I find that to be true across the board. The writers have also been great about answering questions and talking to me about their journey. You just don't get that type of access to these brains anywhere else. It's also really cool and eye-opening that I've gotten to be involved in all these meetings, and meeting all these people and seeing how they operate. It isn't common to every show, and it's like a bird's eye view.
TJ: What's the one thing you would change if you could about working there?
JK: (Laughs) I'm one of the peeps with a really weak stomach, I'm very reactive to stuff that happens, like when there's blood or something happens I'm more squeamish… in the directors cuts I'm the one who wants to shout at the monitor, "No! Don't go in that room!" But no, you gotta keep it cool. So I guess if I could change anything it would be my ability to better hide my reactions, haha. And maybe a juice bar… we could add a juice bar.
TJ: When we spoke during my visit, you let us know your goal is to continue learning and moving forward, perhaps in a more writerly capacity. How soon do you see that happening, how has it been going?
JK: You know, the timeline for a writer is hard to predict, it could be tomorrow or maybe a few years, it's all about timing, luck, and skill. There's writers fellowships that all the networks do, and I've interviewed for some of them, but haven't gotten into any of the programs yet, they're very competitive and I've only recently started submitting to them. I'm gearing up all the fellowships now – lot of them you have to write a spec script on. So now I'm figuring out what show I want to write one for. And the spec I got interviewed for was for Broad City, those women are so incredible and hilarious to me. The Good Place I'm also considering. It has a lot of philosophical issues and it's still a comedy. My minor was philosophy so I'm down with Kant.
TJ: Do you have any hobbies or interests you like to pursue to get away from the UnSubs?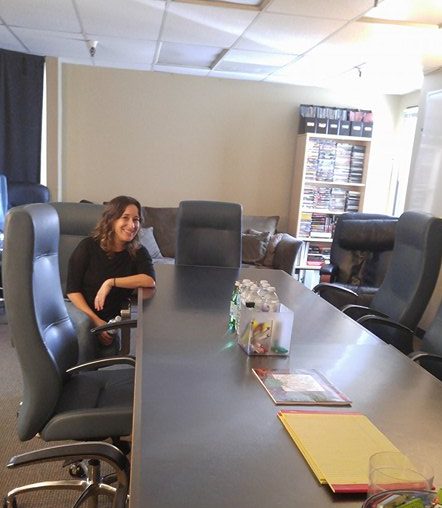 JK: Ha! To forget about all the UnSubs of the world… I try to experience new things as much as possible to avoid feeling stagnant. My favorite weekend event is trying a new restaurant, there's so many culinary delights here in LA. (I have a lot of opinions on food.) I'm *attempting* to learn the art of cooking (Pam our script supervisor has lent me some cookbooks and this week I'm doing create your own pizza night with an art department friend). I'm that person people love to feed because I find so much joy in the art of food.
I like to attend comedy shows, did the first level of UCB improv for fun, and art shows are a great way to get inspired even as a writer. I LOVE unique California day trips (for example Slovang or Salton Sea) I'm also… this is pretty nerdy… an avid thrifter. If I have a free day I'll try a new thrift store. People in LA give away some great stuff, I've found authentic Prada for $2.50. And sometimes I just watch Grace and Frankie.
TJ: What's your favorite episode? Do you have a favorite season? Fave writer?
JK: My favorite episode is "Collision Course" where the UnSub controls people's cars by hacking into the car's computer system. It was futuristic and I love thinking about how technology will be used against us in ways it was never intended (that's where my dark side shows… tech dystopia!) We're starting to see how the tech we embraced a few years ago is being used in ways we never intended or thought about. The episode was written by our new comer as of last year Stephanie SenGupta. She writes a lot of tech-related stuff which definitely speaks to me… I also love me a good Messer/Vangsness mashup script! I like season two because we meet Emily Prentiss who has evolved as one of my favorite characters… next to Garcia of course.
TJ: Has there been a moment in the show, a storyline, that really touched you or creeped you out that you didn't expect?
JK: Our pirate episode was surprising to me, because at first the concept seems silly… a grown man as a pirate! But then you see how he can manipulate the innocence of a child and it's terrifying. You can tell the child is not sure, but he trusts this UnSub and wants to prove himself. Children still have a rich make believe life and it's something that we see in our world used to exploit them, and it's truly heartbreaking. But in general working on criminal minds has made me immediately lock my car doors when I get inside and I am always nervous walking anywhere at night, I can no longer walk home at night in ignorant bliss! On a positive note, I think what makes our show special is that the BAU is family.
TJ: What's the craziest thing that's ever happened to you at work?
JK: Crazy, you mean like funny crazy?
TJ: Yes! Or you know, you got home that night and just went "I can't believe that happened…"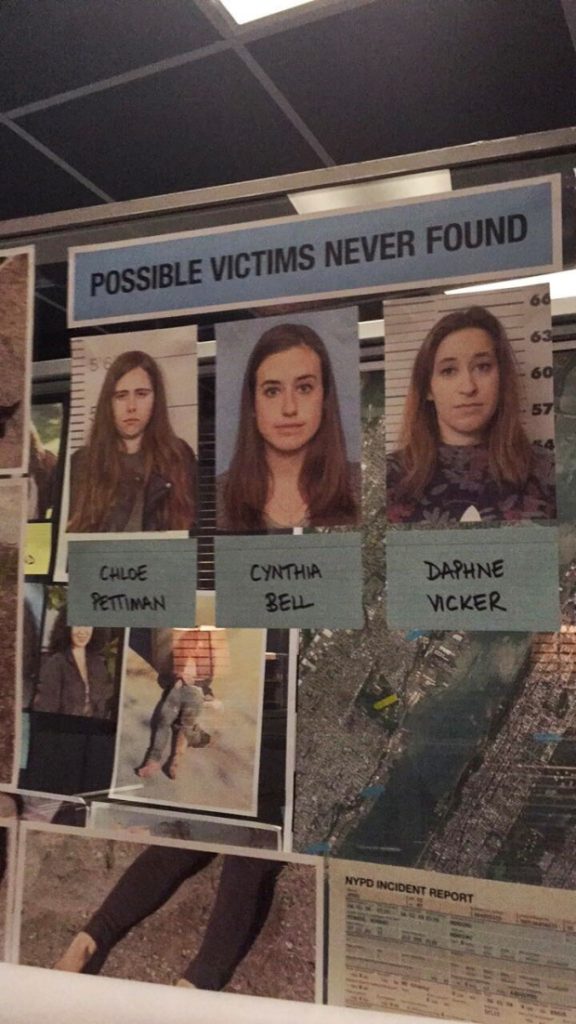 JK: You know, one time on a different show I had to audition mice. We actually had to look at mice photos to see which one would get the job. And then another time, this being Criminal Minds, we auditioned the snakes for the snake episode! We had a snake wrangler to show us how it had to strike, like lunge and bite at the camera and everyone in the room was just on high alert! I'm pretty sure Harry was in the very back going "nope, no thank you", and another guy was jumping on a chair. But what I loved was that our UPM Stacey, was the brave one that actually touched the snakes and let them crawl on her. This room full of guys and she was the one who said "Ok, yeah I'll take the snake." I posted a photo of it on my instagram and people were very upset I did not included a TRIGGER WARNING: SNAKE!
TJ: What have you been most surpised by at work, maybe something you didn't consider, going in?
JK: Probably, honestly, the biggest surprise was really Harry (laughs).
TJ: (laughs) He's going to love that.
JK: Well when I walked in for my interview I was coming off of a pilot working with a really chill and pensive showrunner and then cue Harry…  he's got weird crazy plaques all over his desk, an office that would make any Trojan fan jealous, and cracking jokes in between interview questions. I'm like hmmm what am I getting myself into?? Then true Harry emerged after I started and (laughs). I just didn't expect him to be so much better at social media than I am, sending me hilarious memes, wearing crazy costumes for Halloween, making people laugh in the most unexpected ways for example… and I missed this but apparently he had a phase where he'd wear fake funky teeth and prank people.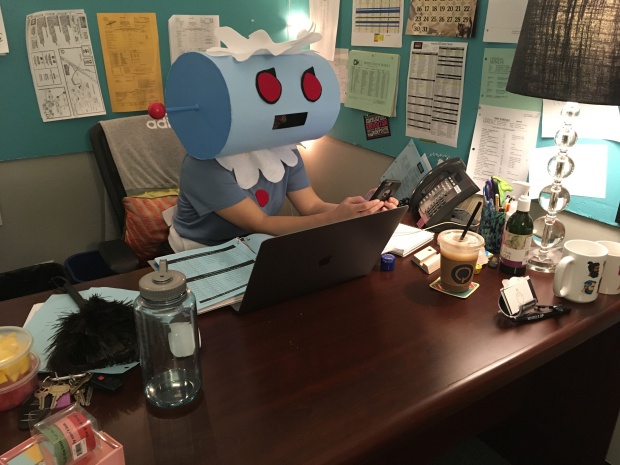 A lot of line producers have a stereotype of being just kind of an accountant-like person, and he's just not like that. He walks a fine balance that most cannot perfect, being funny but also being able to make the tough calls and be well respected. He probably doesn't want you to know this but… he's a very supportive guy, for example whenever I attend marches I send him pics of signs I see that he might find funny, at the women's march he told me that he was proud of me. That moment stuck with me. Another assistant on our show self published a book, and he bought one online. Little things like that, you just don't see very often with people in this industry. It's a rare thing.
TJ: He really shares a lot with us fans, too.
JK: It comes from too, I think, that he's really achieved a lot of the things he set out to achieve. Like when you're newer at the job you feel like you have to prove yourself more, wedge your way in, and he's already proven himself time and time again. It's inspiring and rare to see someone who's done their job and the people around him for a long time still enjoying it. What more can you ask for? So yeah, Harry was the biggest surprise.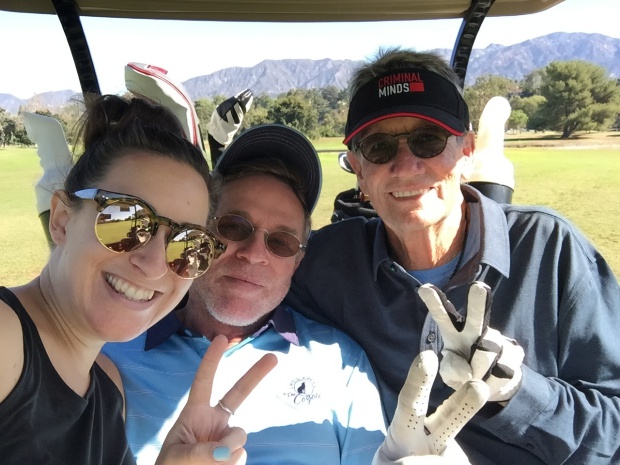 TJ: Okay, cool. To wrap up: Word Association with the cast!
Joe: Knows-everybody-in-Hollywood, Chicago Cubs, pasta
AJ: Best. Hair. Ever.
Paget: Watch her Drunk History, she's hilarious!
Matthew: Good-hearted, creative
Kirsten:  Advocate.
Adam: Swoonworthy
Aisha: Unstoppable (is there anything she can't do?!)
Daniel: Kindhearted
Shemar: Character. He called me shorty.
Thank you Jenny!