Criminal Minds Executive Producer Harry Bring Has Left Us.

Criminal Minds Executive Producer Harry Bring Has Left Us.
What can you say about someone who bursts onto the scene, makes friends with everyone, is exceptional at his job, and throws a silly joke in there once in a while for good measure? Someone who swings a big stick, yet not only understands the underdog, but champions them? Someone who cherishes family, and always looks to expand the definition of that word, generously giving of his time to friends and fans alike, drawing everyone all together within his reach? 
You say that sounds like Harry.
The Criminal Minds family lost a big soul from our world last week, and we are mourning. Harry stepped off the main stage after yet another battle with cancer, a foe he'd defeated already, twice in one year. Harry worked his ass off right up until the day he no longer could. He was a veteran of so many lauded shows like The X-Files, Northern Exposure, Army Wives, Melrose Place and more, but it's Criminal Minds where we knew him best.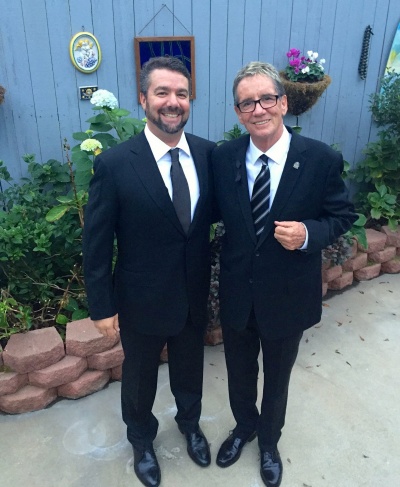 I asked his son Brad Bring to say a little something about his dad for this article. Here was his reply.
"Dad's hobby was work and leading by example. He wanted the best crew that he could tease… and that's how you knew he loved you. He worked his way up the food chain and spent a life in the trenches. First in the Army and then on production. He was never given anything. He worked to make himself better and learn his trade. I think that's why others respected him. He taught us to love our family at home and supported all our goals. His grandchildren loved him and when I finally had a son myself, I named him Nicolas Harry Bring to honor pops. He's only two now but will know everything about dad, our family's patriarch.
Dad lived an amazing life. He had inspiration from both his parents to do great things. And he continued that throughout his life to make his family proud. You may not always remember what someone said to you, but you recall how he made you feel. That was dads gift. He loved people. And the film/tv industry is a people business. Egos and titles don't get the work done, hard work does and he wanted to be the best in all aspects of his life."
Co-Executive Producer Breen Frazier had this to say:
When it was 3am and the crew was tired, Harry would keep everyone's spirits up with fake teeth, a hand buzzer and a phone full of inappropriate memes. He was beloved because he was full of love. And when people like him pass, it's incredibly hard. But every time you think of him, you almost always start laughing.
Friends and former co-workers alike posted hundreds of tweets and facebook posts in tribute, like these: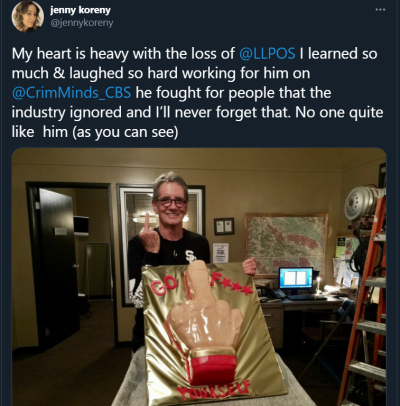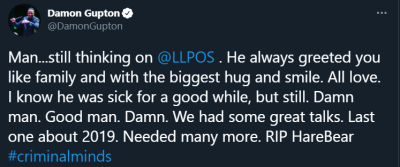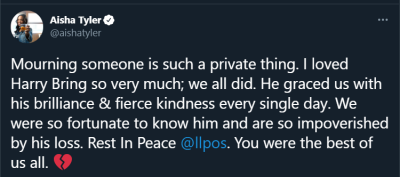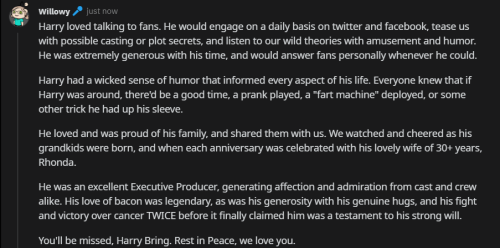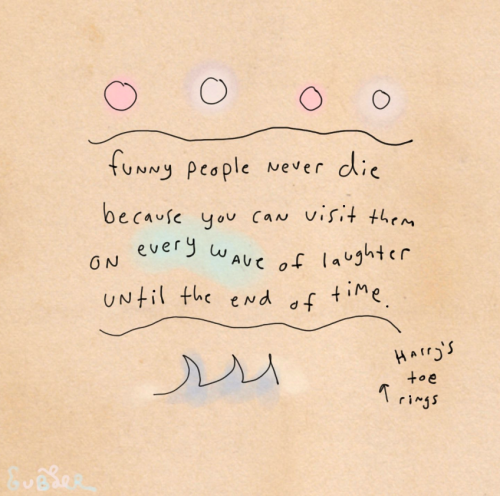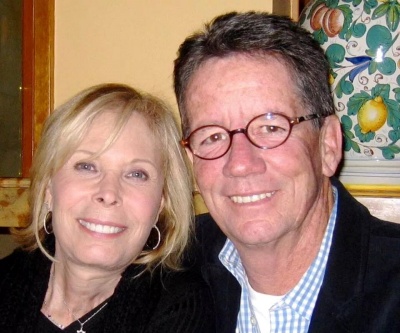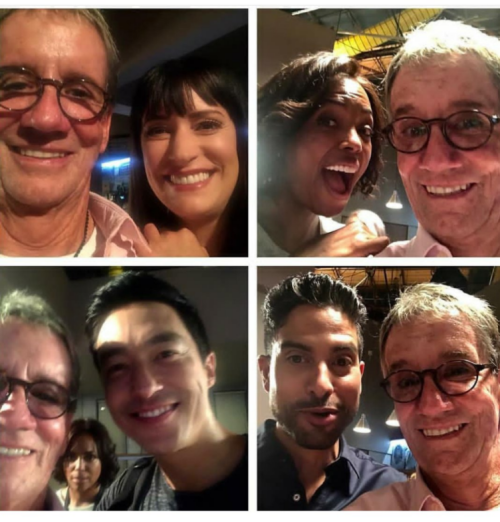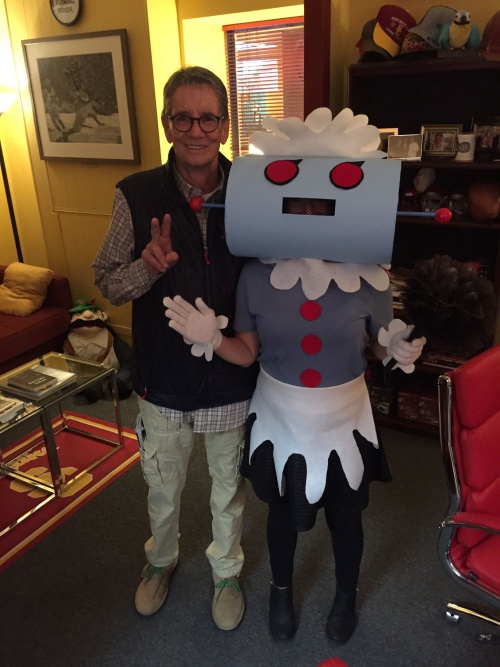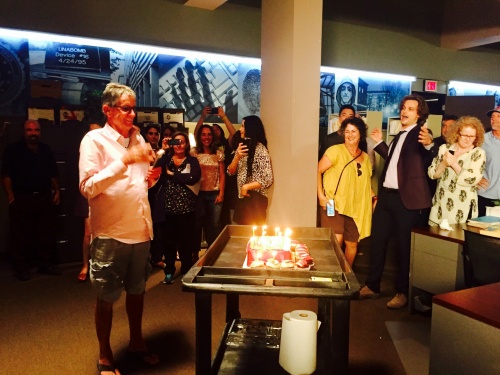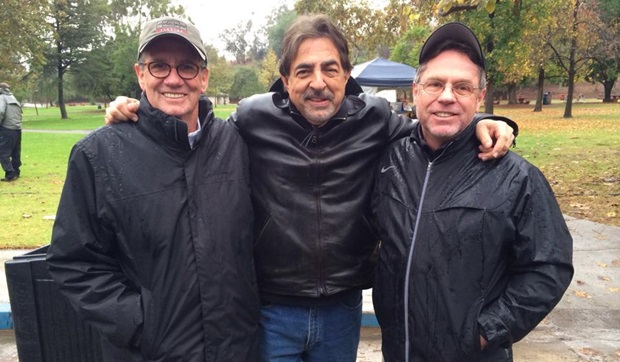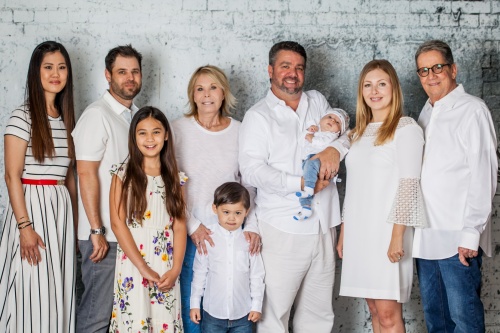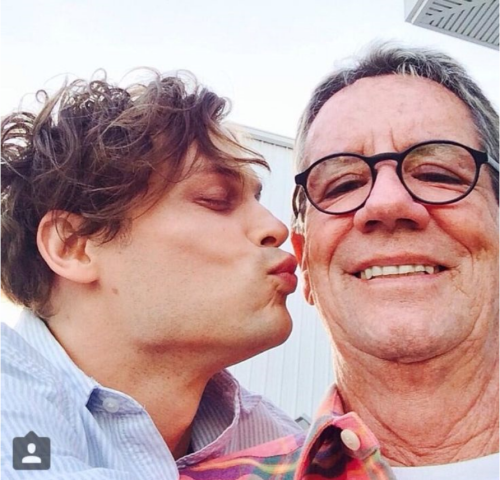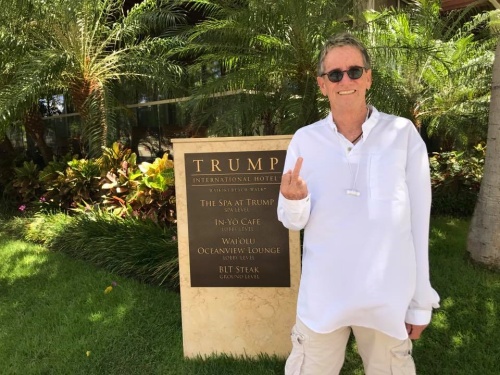 If you'd like to leave a word of remembrance for Harry, please feel free to do so in the comments below. Harry's family has set up a charity donation link in lieu of flowers, cards, or anything else you may be moved to send.